AlpenPokal 2016 › Results › Day 2 › 07.05.2016
Training Day 1 Day 2 Day 3 Day 4 Day 5 Day 6 Day 7 Day 8 Overall Results
Racing Task | Final Results | Maximum Points: 621 | Day Factor = 1.0000
| | | | | | | | | | | |
| --- | --- | --- | --- | --- | --- | --- | --- | --- | --- | --- |
| # | | PILOT | CN | RN | PLANE | DISTANCE | TIME | SPEED | PEN | POINTS |
| 1 | | Martin Dvorak | CCC | OK-9252 | LS8 | 246.82 km | 02:03:05 | 120.3 km/h | 3 | 618 |
| 2 | | Helmut Kuenne | F9 | D-2318 | Discus2 | 246.82 km | 02:04:23 | 119.1 km/h | 0 | 613 |
| 3 | | Tomas Brotanek | TB | OK-0516 | Discus2 | 246.82 km | 02:06:33 | 117 km/h | 0 | 601 |
| 4 | | Radek Mica | RUM | OK-5417 | LS8 | 246.82 km | 02:09:28 | 114.4 km/h | 0 | 585 |
| 5 | | Erik Praznovsky | EP | OM-1974 | LS8 | 246.82 km | 02:10:37 | 113.4 km/h | 0 | 579 |
| 6 | | Dmitry Andreyev | D2A | - | Discus2 | 246.82 km | 02:10:53 | 113.1 km/h | 0 | 578 |
| 7 | | Jon Holland | 123 | G-RUSH | LS8 | 246.82 km | 02:11:39 | 112.5 km/h | 0 | 574 |
| 8 | | Aleksey Chernov | AV7 | AIRMAN | LS8 | 246.82 km | 02:12:37 | 111.7 km/h | 0 | 569 |
| 9 | | Petr Polach | SOP | OK-6808 | Discus2 | 246.82 km | 02:12:55 | 111.4 km/h | 0 | 568 |
| 10 | | Hans Nyc | JN | OK-6200 | LS8 | 246.82 km | 02:13:13 | 111.2 km/h | 0 | 566 |
| 11 | | Valentin Tornavi | 574 | RA-SLY | Discus2 | 246.82 km | 02:13:40 | 110.8 km/h | 0 | 564 |
| 12 | | Jiri Adam | ADX | OK-0024 | LS8 | 246.82 km | 02:21:41 | 104.5 km/h | 0 | 526 |
| 13 | | Josef Spirik | S50 | SPIRA | LS8 | 246.82 km | 02:23:54 | 102.9 km/h | 0 | 517 |
| 14 | | Lubos Faitz | LFM | OK-4812 | Discus2 | 246.82 km | 02:26:18 | 101.2 km/h | 0 | 507 |
| 15 | | Jiri Nemecek | N31 | OK-6431 | LS8 | 246.82 km | 02:27:40 | 100.3 km/h | 0 | 501 |
| 16 | | Milos Koch | MK | OK-1823 | ASW28 | 246.82 km | 02:28:17 | 99.9 km/h | 0 | 498 |
| 17 | | Zdena Zazova | BZZ | OK-3710 | ASW28 | 246.82 km | 02:48:52 | 87.7 km/h | 0 | 425 |
| 18 | | Rudolf Kalousek | R1K | OK-7777 | Discus2 | 246.82 km | 02:53:22 | 85.4 km/h | 0 | 412 |
| 19 | | Miro Kucera | MK7 | OM-2507 | Discus2 | 225.69 km | | | 0 | 348 |
| 20 | | Tomasz Zwolinski | TZ2 | SP-0028 | LS8 | 151.28 km | | | 0 | 233 |
| 21 | | Jaro Pincek | H7 | PINDAS | Discus2 | 148.14 km | | | 0 | 228 |
| 22 | | Piotr Raczynski | PIT | SP-2901 | Discus2 | 120.46 km | | | 0 | 186 |
| 23 | | Henryk Piekos | HPO | SP-3468 | ASW28 | 108.23 km | | | 0 | 167 |
| 24 | | Petr Plinta | 7T | OK-0357 | LS8 | 89.18 km | | | 0 | 138 |
| 25 | | Johan Pretorius | JP0 | ZS-JP | Discus2 | 27.45 km | | | 0 | 42 |
| 26 | | Jiri Holub | JHO | OK-4408 | Discus2 | 26.4 km | | | 0 | 41 |
| 27 | | Jaroslav VAlouch | JV1 | OK-1279 | Discus2 | 194.51 km | | | 0 | 0 |
| 28 | | Marek Marcuss | 030 | SP-0303 | Discus2 | 167.4 km | | | 0 | 0 |
| 29 | | Leszek Tomasik | LTO | SP-2188 | Discus2 | 138.9 km | | | 1 | 0 |
| 30 | | Miroslav Ladnak | MIL | OM-ORLE | Discus2 | 85.3 km | | | 0 | 0 |
| 31 | | Miodrag Ivanovic | IDM | YU-1039 | Discus2 | 57.9 km | | | 0 | 0 |

Download IGC files (all pilots in one ZIP file) | Detailed results (mCR, mIAS, Detour%...)
Briefing › Day 2 › 07.05.2016 › 20:00 CEST › Saturday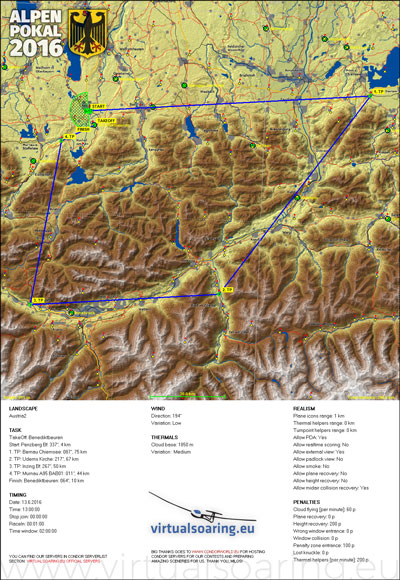 Server:AlpenPokal 2016
Password:
Date:07.05.2016
Time:20:00 CEST (18:00 UTC)
Join time:30 min.
---
Landscape:Austria2 [2.0]
Plane class:Standard Class
Task type:Racing Task
Race-in time:1 min.
Time window:120 min.
Start time:13:00:00
Condor date:13.06.2016
Start altitude:max. 1700 m QNH
---
TakeOff:Benediktbeuren
Start:Penzberg Bf
1. TP:Bernau Chiemsee
2. TP:Uderns Kirche
3. TP:Inzing Bf
4. TP:Murnau A95 BAB01
Finish:Benediktbeuren
Distance:247 km
---
Cloudflying not allowed! Circeling in the direction of climb is determined by the first glider in thermal.
If you have doubts about the circeling direction, ask in the chat.
Please FLY SAFE, good luck to all pilots.
---

Download Flightplan (FPL file) | Austria2 XCM files for XCSoar
---
comments powered by

Disqus